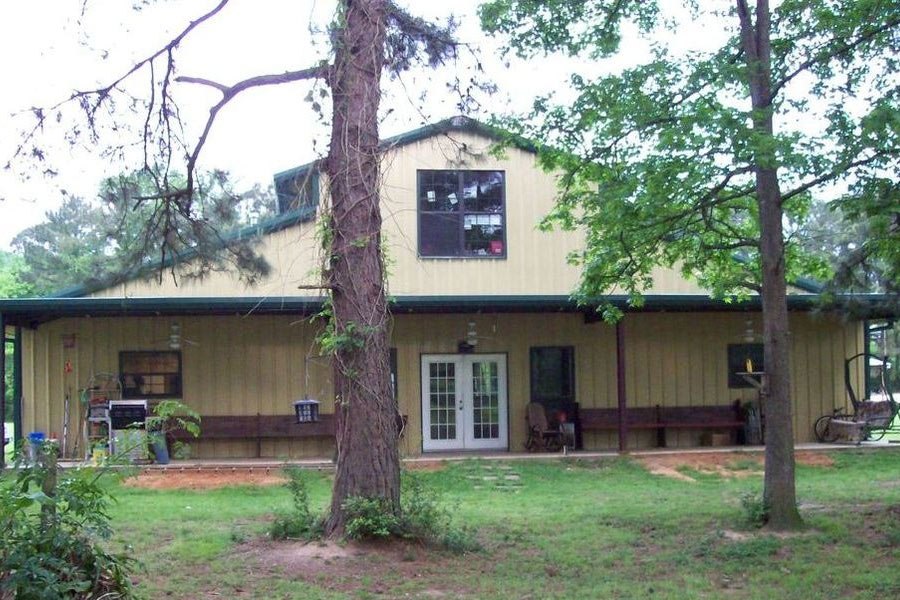 Barndominiums – we insure them too!
Barndominiums – the new country living.
"Were you raised in a barn?!"
"Why yes, I was. And proud of it. Thank you very much."
Barndominiums are the new rural craze. It's big here in Texas, and we're proud to be a part of it. The picture above is our home. We live large in it (see our pics below). It's not exactly a "barn," but it's big and it's spacious and we could even fit a few horses in there if we wanted to. (Folks in Connecticut claim they invented the barndominium so they could live close to their horses. Yankees. We'll let them think that they invented the barndominium if it makes them happier.)
If you live in Texas, and you want space to spread out in a comfortable luxurious home in the country… AND you want your home to double as your workshop, storage place, and anything else you might need it for the barndominium is for you!
​What exactly is a barndominium?
Great question! A barndominium (sometimes called a "barndo" or a "barn home") is a sheet metal or steel-framed building that is designed for the dual purpose of combining living space with a shop. Or horses. Or other fun things that go along with country living.
Barndominiums can occasionally be made of other materials, but the reason most are made from sheet metal is to hold down the cost. That's one of the great features of barndominiums- they cost much less to build per square foot, so you can have lots of room to live!
Barndominiums can even save energy and lower utility bills (our walls are a foot thick!) while still being modern and spacious.
​Is it hard to insure a barndominium?
It can sometimes be tricky to insure a barndominium in Texas. There are many things that can affect the rate or even the question of "will they insure me?" such as:
How far is your barndominium from the nearest neighbor? Can it be seen?
How far is it to the nearest fire hydrant and fire station?
How much of the building is living space and how much is "other" space?
Are you conducting a business out of your new barndominium?
Who did the electrical & plumbing? Is it to code?
These are just a few of the many things that can affect getting the best quote and coverage. But the GOOD NEWS is that we can find the right insurance policy for you!
​Remember:
We live in a barndominium too. Who else would you turn to for your barndominium insurance?

​Call us at Armstrong Insurance. We'd love to talk barndominiums with you!
Jack (Aldine office): (281) 449-0111
Brenda (New Caney office): (281) 399-7111
​Home Sweet Barndominium Home!